CCG-Checklist: Arms and Tactics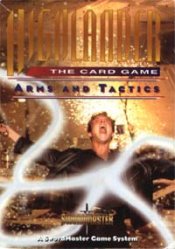 | | |
| --- | --- |
| Common | 94 |
| Uncommon | 78 |
| Rare | 81 |
| Ultra-Rare | 10 |
| Andere | 2 |
| zusammen | 265 |
"Arms and Tactics" ist eine weitere Expansion zum Highlander CCG, diesmal wieder mit Motiven der Serie. Sie bietet neue Karten zu fast allen Unsterblichen der Series Edition und führt als neue Personen Ceirdwyn, Kanis, Kanwulf, Martin Hyde und Paul Kinman ein. Zudem wurde das Konzept der "Weapons of Choice" mit entsprechenden Karten eingeführt, sowie eine Reihe an neuen Pre-Game-Karten (Arms and Tactics, Crystals). Die Karten erschienen Ende 1998.
Auch zu dieser Expansion gab es Starter Packs, welche die üblichen 55 Karten enthielten. Die Booster Packs dürften dann wieder 15 Karten enthalten haben.
Und noch etwas wurde mit dieser Expansion eingeführt, nämlich das "Master Format". Gemeint sind damit die kleinen farbigen Kreise rechts unten auf der Karte. Die verschiedenen Farben und Strukturen der Kreise symbolisieren fünf Attribute, nach denen man Karten einteilen kann: Strength, Toughness, Agility, Intelligence und Spirit. Jedem Unsterblichen des Spiels sind bestimmte Mengen dieser Fähigkeiten zugewiesen, alle normalen Karten 'kosten' dagegen eine oder mehrere dieser Fähigkeiten. Man kann dann sein Kartendeck entsprechend der jeweiligen Menge an Punkten zusammenstellen, die dem Unsterblichen zur Verfügung stehen, mit dem man spielt. Das ist jedenfalls die Kurzfassung, mehr dazu erfahrt ihr auf tcgames.tk (siehe Link auf der CCG-Startseite).
Biete / Suche
Typ
Person
Titel
Karten-Typ
Seltenheit
Hinweise
 
Amanda
Femme Fatale
Edge
Uncommon

Suche

Amanda
Mistaken Identity
Situation
Rare

---

Suche

Annie Devlin
Eye for an Eye
Event
Uncommon

Suche

Annie Devlin
Flashing Blade
Edge
Rare

---

Suche

Arms and Tactics
Arms and Tactics
Premium
Ultra-Rare
Motiv: Duncan 1918, Text: play cards as normal

Suche

Arms and Tactics
Arms and Tactics
Premium
Ultra-Rare
Motiv: Duncan 1994, Text: remove 5 cards

---

Suche

Broad Bladed Spear
Broad Bladed Spear
Weapon of Choice
Rare

Suche

Broad Bladed Spear
Impale
Event
Rare

Biete

Broad Bladed Spear
Quality Blade
Object
Uncommon
 
Broad Bladed Spear
Spinning Block
Block
Common

Suche

Broad Bladed Spear
Spinning Block
Block
Common
 
Broad Bladed Spear
Spinning Block
Block
Common

---

 
Ceirdwyn
Alaine
Situation
Uncommon

Biete

Ceirdwyn
Back Away
Dodge
Uncommon
 
Ceirdwyn
Battle Rage
Event
Uncommon
 
Ceirdwyn
Callum
Situation
Rare

Suche

Ceirdwyn
Ceirdwyn
Premium
Ultra-Rare
Text: +1 Ability

Suche

Ceirdwyn
Ceirdwyn
Persona
Rare
 
Ceirdwyn
Continuity
Situation
Uncommon
 
Ceirdwyn
Evade
Dodge
Common
 
Ceirdwyn
Evade
Dodge
Common
 
Ceirdwyn
Flashback
Situation
Uncommon
 
Ceirdwyn
Jakob
Situation
Uncommon

Suche

Ceirdwyn
Master's Attack
Special Attack
Rare

Suche

Ceirdwyn
Master's Dodge
Dodge
Rare
 
Ceirdwyn
Myra
Situation
Uncommon

Suche

Ceirdwyn
Neva
Situation
Rare

Suche

Ceirdwyn
Power Blow
Event
Uncommon
 
Ceirdwyn
Retribution
Event
Rare

Suche

Ceirdwyn
Trip
Event
Uncommon

---

Suche

Claymore
Claymore
Weapon of Choice
Rare
 
Claymore
Cleave
Special Attack
Common
 
Claymore
Cleave
Special Attack
Common

Biete

Claymore
Hammer Blow
Event
Uncommon

Suche

Claymore
Quality Blade
Object
Uncommon
Motiv: Duncan mit Claymore

Biete

Claymore
Quality Blade
Object
Uncommon
Anmerkung , Motiv: Luther mit Saber

Suche

Claymore
Reach
Event
Rare

---

Suche

Crystal
Crystal
Premium
Ultra-Rare
Calliope

Suche

Crystal
Crystal
Premium
Ultra-Rare
Euterpe

Suche

Crystal
Crystal
Premium
Ultra-Rare
Terpsichore

---

 
Duncan MacLeod
Master of Disguise
Situation
Uncommon
 
Duncan MacLeod
T-Bird
Object
Uncommon

---

 
Generic
Alertness
Edge
Uncommon
Motiv: Duncan, Text: Block

Suche

Generic
Alertness
Edge
Uncommon
Motiv: Richie, Text: Dodge
 
Generic
Alertness
Edge
Uncommon
Motiv: Duncan, Text: Hidden Attack
 
Generic
Bad Luck
Event
Common
Motiv: Explosion, Text: 3 random cards
 
Generic
Bad Luck
Event
Common
Motiv: Duncan und Chaske, Text: bottom card
 
Generic
Big and Bad
Event
Uncommon
 
Generic
Change of Fortune
Situation
Common

Suche

Generic
Concentration
Edge
Rare
Text: Attack Phase

Suche

Generic
Concentration
Edge
Rare
Text: Defense Phase
 
Generic
Cull the Weak
Situation
Common
Text: Tired
 
Generic
Cull the Weak
Situation
Common
Text: Weak
 
Generic
Cull the Weak
Event
Common
 
Generic
Defensive Stance
Situation
Common

Suche

Generic
Diane Terrin
Situation
Rare

Suche

Generic
Dirty Trick
Attack: Choke
Rare
 
Generic
Dirty Trick
Attack: Head Butt
Common
 
Generic
Dirty Trick
Attack: Tackle
Common
 
Generic
Disarm
Event
Common

Suche

Generic
Double Eagle
Location
Rare

Suche

Generic
Dueling Grounds
Location
Rare
 
Generic
Duelist
Situation
Common
Ballestra, Motiv: Duncan
 
Generic
Duelist
Situation
Common
Ballestra, Motiv: Duncan und Kantos
 
Generic
Duelist
Situation
Common
Coup de Grace
 
Generic
Encumbered
Situation
Uncommon

Biete

Generic
Extra Weapon
Object
Common

Suche

Generic
Focus
Edge
Rare
Motiv: Duncan Kata

Suche

Generic
Focus
Edge
Uncommon
Motiv: Duncan und Reinhardt
 
Generic
Foresight
Event
Uncommon

Suche

Generic
Gypsy Camp
Location
Rare
 
Generic
Gypsy Curse
Situation
Uncommon
 
Generic
Head Shot
Event
Common
 
Generic
Holy Ground
Event
Common
 
Generic
Impulse
Event
Uncommon

Suche

Generic
In Cold Blood
Situation
Uncommon
 
Generic
Iron Will
Edge
Common

Suche

Generic
Joe's
Location
Rare
 
Generic
Left Guard
Block: Guard
Common
 
Generic
Lower Center Attack
Attack
Common
[Bild]
 
Generic
Lower Center Attack
Attack
Common
[Bild]
 
Generic
Lower Center Attack
Attack
Common
[Bild]
 
Generic
Lower Center Block
Block
Common
[Bild]
 
Generic
Lower Center Block
Block
Common
[Bild]
 
Generic
Lower Center Block
Block
Common
[Bild]
 
Generic
Lower Guard
Block
Common
 
Generic
Lower Left Attack
Attack
Common
[Bild]
 
Generic
Lower Left Attack
Attack
Common
[Bild]
 
Generic
Lower Left Attack
Attack
Common
[Bild]
 
Generic
Lower Left Block
Block
Common
[Bild]
 
Generic
Lower Left Block
Block
Common
[Bild]
 
Generic
Lower Left Block
Block
Common
[Bild]
 
Generic
Lower Right Attack
Attack
Common
[Bild]
 
Generic
Lower Right Attack
Attack
Common
[Bild]
 
Generic
Lower Right Attack
Attack
Common
[Bild]
 
Generic
Lower Right Block
Block
Common
[Bild]
 
Generic
Lower Right Block
Block
Common
[Bild]
 
Generic
Lower Right Block
Block
Common
[Bild]

Suche

Generic
Matthew McCormick
Situation
Uncommon
 
Generic
Middle Left Attack
Attack
Common
[Bild]
 
Generic
Middle Left Attack
Attack
Common
[Bild]
 
Generic
Middle Left Attack
Attack
Common
[Bild]
 
Generic
Middle Right Attack
Attack
Common
[Bild]
 
Generic
Middle Right Attack
Attack
Common
[Bild]
 
Generic
Middle Right Attack
Attack
Common
[Bild]
 
Generic
Misfortune
Event
Common
 
Generic
Narrow Escape
Event
Common
 
Generic
Nemesis
Situation
Uncommon
Text: Blind Rage (Ceirdwyn)
 
Generic
Nemesis
Situation
Uncommon
Text: Lucille (Kanis)

Suche

Generic
Nemesis
Situation
Uncommon
Text: Legend (Kanwulf)
 
Generic
Nemesis
Situation
Uncommon
Text: Hunted (Martin Hyde)
 
Generic
Nemesis
Situation
Uncommon
Text: Dead Meat (Paul Kinman)
 
Generic
Police
Event
Common
Text: prevent all damage
 
Generic
Police
Event
Common
Text: remove any Situation

Suche

Generic
Rail Yard
Location
Rare
 
Generic
Reconnaissance
Edge
Uncommon
 
Generic
Right Guard
Block: Guard
Common

Suche

Generic
Ring of Fire
Location
Rare

Suche

Generic
Rules of the Game
Situation
Uncommon
Motiv: Gavriel Larca, Text: Ally
 
Generic
Rules of the Game
Situation
Uncommon
Motiv: Amanda, Text: Event
 
Generic
Rules of the Game
Situation
Uncommon
Motiv: Carl Robinson, Text: Ranged Attack
 
Generic
Run For Your Life
Edge
Common
 
Generic
Shifting Sands
Situation
Uncommon
 
Generic
Slash
Attack
Common
 
Generic
Slash
Attack
Common

Suche

Generic
Slaughter House
Location
Rare

Suche

Generic
Sources Revealed
Edge
Uncommon

Suche

Generic
Sulphur Plant
Location
Rare

Suche

Generic
The Bigger They Are
Edge
Uncommon

Suche

Generic
The Circle
Location
Rare
 
Generic
The Gathering
Situation
Rare

Suche

Generic
Theatre
Location
Rare

Suche

Generic
There Can Be Only One
Edge
Rare
Motiv: Duncan, Text: Block
 
Generic
There Can Be Only One
Edge
Rare
Motiv: Duncan Quickening, Text: Dodge
 
Generic
Thrust
Attack
Common
[Bild]
 
Generic
Thrust
Attack
Common
[Bild]
 
Generic
Thrust
Attack
Common
[Bild]
 
Generic
Up and at 'Em
Event
Common
 
Generic
Upper Center Attack
Attack
Common
[Bild]
 
Generic
Upper Center Attack
Attack
Common
[Bild]
 
Generic
Upper Center Attack
Attack
Common
[Bild]
 
Generic
Upper Center Block
Block
Common
[Bild]
 
Generic
Upper Center Block
Block
Common
[Bild]
 
Generic
Upper Center Block
Block
Common
[Bild]
 
Generic
Upper Guard
Block: Guard
Common
 
Generic
Upper Left Attack
Attack
Common
Anmerkung [Bild]
 
Generic
Upper Left Attack
Attack
Common
Anmerkung [Bild]
 
Generic
Upper Left Block
Block
Common
[Bild]
 
Generic
Upper Left Block
Block
Common
[Bild]
 
Generic
Upper Left Block
Block
Common
[Bild]
 
Generic
Upper Right Attack
Attack
Common
[Bild]
 
Generic
Upper Right Attack
Attack
Common
[Bild]
 
Generic
Upper Right Attack
Attack
Common
[Bild]
 
Generic
Upper Right Block
Block
Common
[Bild]
 
Generic
Upper Right Block
Block
Common
[Bild]
 
Generic
Upper Right Block
Block
Common
[Bild]

Suche

Generic
Vice Grip
Edge
Uncommon

---

Suche

Generic Immortal
Generic Immortal
Persona
Rare
Motiv: Anthony Gallen

Suche

Generic Immortal
Generic Immortal
Persona
Rare
Motiv: Claudia Jardine

Suche

Generic Immortal
Generic Immortal
Persona
Rare
Motiv: Tyler King

Suche

Generic Immortal
Generic Immortal
Persona
Rare
Motiv: Felicia Martins

---

 
Gladius
Deflect
Block
Common
 
Gladius
Deflect
Block
Common
 
Gladius
Gladius
Weapon of Choice
Rare

Suche

Gladius
Quality Blade
Object
Uncommon
 
Gladius
Stab
Attack
Uncommon
 
Gladius
Stab
Attack
Uncommon

Suche

Gladius
Twist
Edge
Rare

---

Suche

Kalas
Insurance
Event
Rare
 
Kalas
Insurance
Situation
Rare

Suche

Kalas
Master's Block
Block
Rare

---

 
Kanis
Back Away
Dodge
Uncommon
 
Kanis
Evade
Dodge
Common
 
Kanis
Evade
Dodge
Common
 
Kanis
Flashback
Event
Uncommon

Suche

Kanis
Hound
Situation: Cornwall
Rare

Suche

Kanis
Hound
Situation: Hampton
Rare

Suche

Kanis
Hound
Situation: Lancaster
Rare

Suche

Kanis
Kanis
Premium
Ultra-Rare
Text: +1 Ability

Suche

Kanis
Kanis
Persona
Rare

Suche

Kanis
Leader of the Pack
Event
Rare

Suche

Kanis
Master of the Hunt
Event
Rare

Suche

Kanis
Master's Maneuver
Situation
Rare

Suche

Kanis
Power Blow
Event
Uncommon

Suche

Kanis
Pure Breed
Event
Uncommon

---

 
Kanwulf
Back Away
Dodge
Uncommon

Suche

Kanwulf
Battle Rage
Event
Rare
 
Kanwulf
Combination
Event
Uncommon
 
Kanwulf
Continuity
Situation
Uncommon
 
Kanwulf
Evade
Dodge
Common
 
Kanwulf
Evade
Dodge
Common
 
Kanwulf
Extra Shot
Event
Uncommon
 
Kanwulf
Flashback
Situation
Uncommon

Suche

Kanwulf
Kanwulf
Premium
Ultra-Rare
Text: +1 Ability

Suche

Kanwulf
Kanwulf
Persona
Rare

Suche

Kanwulf
Master's Advice
Situation
Rare

Suche

Kanwulf
Sacrifice
Event
Rare
 
Kanwulf
Trip
Event
Uncommon

---

 
Katana Sword
Katana Sword
Weapon of Choice
Rare
 
Katana Sword
Lightning Reflexes
Situation
Rare

Suche

Katana Sword
Lightning Strike
Edge
Uncommon
Motiv: Duncan, Text: cannot be blocked
 
Katana Sword
Lightning Strike
Edge
Uncommon
Motiv: Richie, Text: cannot be dodged

Suche

Katana Sword
Quality Blade
Object
Uncommon

---

Suche

Kern
Calm Before the Storm
Event
Rare

Suche

Kern
Musket
Object
Rare

---

Suche

Luther
Insence of Pain
Object
Rare

Suche

Luther
Master's Attack
Special Attack
Rare

---

 
Martin Hyde
Back Away
Dodge
Uncommon
 
Martin Hyde
Combination
Event
Uncommon
 
Martin Hyde
Continuity
Situation
Uncommon
 
Martin Hyde
Evade
Dodge
Common
 
Martin Hyde
Evade
Dodge
Common
 
Martin Hyde
Extra Shot
Event
Uncommon

Suche

Martin Hyde
Hunter
Event
Uncommon

Suche

Martin Hyde
Intimidate
Event
Rare

Suche

Martin Hyde
Martin Hyde
Premium
Ultra-Rare
Text: +1 Ability
 
Martin Hyde
Martin Hyde
Persona
Rare

Suche

Martin Hyde
Master's Block
Block
Rare

Suche

Martin Hyde
Master's Trick
Event
Rare

Suche

Martin Hyde
Stalk
Special Attack
Rare

Suche

Martin Hyde
Weapon Bind
Event
Rare

---

Suche

Nefertiri
Have A Good Life
Event
Rare

---

 
Parrying Blade
Dual Attack
Special Attack
Rare

Suche

Parrying Blade
Dual Attack
Special Attack
Rare

Suche

Parrying Blade
Parrying Blade
Weapon of Choice
Rare
 
Parrying Blade
Surprise Attack
Attack
Common
 
Parry Blade
Surprise Attack
Attack
Common
Anmerkung

Suche

Parrying Blade
Trap
Event
Rare

---

Suche

Paul Kinman
9mm
Object
Rare

Suche

Paul Kinman
Back Away
Dodge
Uncommon
 
Paul Kinman
Combination
Event
Uncommon
 
Paul Kinman
Continuity
Situation
Uncommon
 
Paul Kinman
Contract Killer
Situation: Plot
Rare
 
Paul Kinman
Deceiver
Situation
Uncommon

Suche

Paul Kinman
Paul Kinman
Premium
Ultra-Rare
Text: +1 Ability

Suche

Paul Kinman
Paul Kinman
Persona
Rare
 
Paul Kinman
Reload
Event
Uncommon
 
Paul Kinman
Side Step
Dodge
Uncommon

Suche

Paul Kinman
Side Step
Dodge
Uncommon

Suche

Paul Kinman
Taunt
Event
Rare

Suche

Paul Kinman
Trip
Event
Uncommon

---

 
Rapier
Bleeding Wound
Situation
Uncommon
 
Rapier
Quality Blade
Object
Uncommon
 
Rapier
Rapier
Weapon of Choice
Rare
 
Rapier
Slice
Attack
Common
 
Rapier
Slice
Attack
Common

Suche

Rapier
Swashbuckler
Situation
Rare

---

Suche

Richie Ryan
Master Attack
Attack
Rare

---

Suche

Saber
Guard
Block: Guard
Uncommon
 
Saber
Guard
Block: Guard
Uncommon
 
Saber
Saber
Weapon of Choice
Rare
 
Saber
Slash
Attack
Common
 
Saber
Slash
Attack
Common
 
Saber
Slash
Attack
Rare

---

 
Shield
Shield
Weapon of Choice
Rare

Suche

Shield
Under Cover
Edge
Rare

---

 
Slan Quince
Brute
Situation
Uncommon

Suche

Slan Quince
Mask
Object
Uncommon

---

 
War Axe
Attack Weapon
Event
Uncommon
 
War Axe
Quality Blade
Object
Uncommon

Suche

War Axe
Throw
Special Attack: Ranged
Rare

Suche

War Axe
War Axe
Weapon of Choice
Rare

---

Suche

Xavier St. Cloud
Loot
Event
Rare

---

 
Andere Karten
Duncan Collection Order Form
 
Andere Karten
The Nexus Membership Card