CCG-Checklist: The Gathering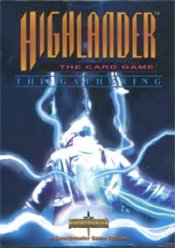 | | |
| --- | --- |
| Common | 24 |
| Uncommon | 26 |
| Rare | 50 |
| Ultra-Rare | 16 |
| Andere | 2 |
| zusammen | 118 |
"The Gathering" ist die erste und einzige Expansion, die zur Movie Edition des Highlander CCGs erschien. Die Expansion kam 1998 auf den Markt und führt mit Yung Dol Kim, Iman Fasil, Kane und Corda&Reno vier neue Personen ein, liefert aber auch zu den Personen der Movie Edition einige neue Karten.
Zu dieser Expansion gab es auch Starter Packs, welche zum Großteil nachgedruckte (und korrigierte) Karten der Movie Edition enthielten. Mehr Infos zu diesen Reprint-Varianten gibt's in der Liste der Movie Edition. Ansonsten gab es wie üblich Booster Packs mit 15 Karten.
Noch zwei Hinweise: Mit dieser Expansion wurde eine zweite Premium-Card für alle Personen eingeführt. Auf allen bisherigen Premium-Karten fand sich der Text "You begin the game with +1 Ability.". Die zweite Premium-Karte enthält nun den Satz "Your Master cards cannot be countered or removed from the game.", was ich in Anlehnung an fremde Checklists mit "MCBC" abkürzen werde.
Und: Es existieren Fehldrucke einiger Premium-Karten dieser Expansion, und zwar meistens gemischt mit der Karte "Master's Prize" aus der Methos Collection.
Movie Edition: Varianten: Die Varianten zur "Movie Edition" im Detail.
Fehldrucke: Mit dieser Expansion verbundene Fehldrucke.
Biete / Suche
Typ
Person
Titel
Karten-Typ
Seltenheit
Hinweise

Suche

Clan MacLeod
Clan Priest
Event
Rare

Suche

Clan MacLeod
MacLeod Backpipes
Object
Rare

Suche

Clan MacLeod
Remembrance
Situation
Rare

---

Suche

Connor MacLeod
Connor MacLeod
Premium
Ultra-Rare
Text: MCBC [Bild]

Suche

Connor MacLeod
Solitude
Situation
Rare
 
Connor MacLeod
Spirit of the Stag
Situation
Rare

---

 
Corda and Reno
Back Away
Dodge
Uncommon
 
Corda and Reno
Casual Killer
Situation
Rare

Suche

Corda and Reno
Corda and Reno
Premium
Ultra-Rare
Text: MCBC

Suche

Corda and Reno
Corda and Reno
Premium
Ultra-Rare
Fehldruck , Text: +1 Ability
 
Corda and Reno
Corda and Reno
Persona
Rare

Suche

Corda and Reno
Death From Above
Edge
Rare
 
Corda and Reno
Flying Machine
Object: Hoverboard
Rare

Suche

Corda and Reno
Flying Machine
Object: Wings
Rare

Suche

Corda and Reno
Grapple
Situation
Rare
 
Corda and Reno
Maniacal Laugh
Event
Rare
Text: unsettled
 
Corda and Reno
Maniacal Laugh
Event
Rare
Text: infuriated and annoyed
 
Corda and Reno
Power Blow
Event
Uncommon

Suche

Corda and Reno
The Equalizer
Object
Rare

---

Suche

General Katana
General Katana
Premium
Ultra-Rare
Text: MCBC

---

 
Generic
Asgard
Situation: Watcher Field Agents
Common
Anmerkung

Biete

Generic
Bait and Switch
Edge
Common
 
Generic
Brawler
Edge
Uncommon
 
Generic
Breakout
Event
Uncommon
 
Generic
Conjure
Event
Common
Anmerkung
 
Generic
Cover
Situation
Common
[Bild]
 
Generic
Cover
Situation
Common
[Bild]
 
Generic
Desecreation
Event
Uncommon
 
Generic
Destruction
Event: Plot
Uncommon
 
Generic
Detective Walter Bedsoe
Edge
Rare
 
Generic
Discipline
Edge
Common
[Bild]

Biete

Generic
Discipline
Edge
Common
[Bild]
 
Generic
Do As I Say, Woman!
Situation
Rare
 
Generic
Head Hunter
Event: Plot
Uncommon
 
Generic
Laundry Room
Location
Rare
 
Generic
Lean and Mean
Edge
Common

Suche

Generic
Lt. John Stenn
Situation
Rare
 
Generic
Master's Sanctuary
Situation
Rare

Biete

Generic
Memories
Edge
Common
Text: one Edge card

Biete

Generic
Memories
Edge
Common
Text: one Special card

Suche

Generic
Mental Ward
Location
Rare
 
Generic
Nemesis
Situation
Uncommon
Text: Grounded (Corda and Reno)
 
Generic
Nemesis
Situation
Uncommon
Text: Fit of Depression (Iman Fasil)
 
Generic
Nemesis
Situation
Uncommon
Text: Disillusioned (Kane)

Biete

Generic
Nemesis
Situation
Uncommon
Text: Surrender (Yung Dol Kim)

Biete

Generic
Precinct
Edge
Common

Biete

Generic
Riposte
Attack
Common
 
Generic
Riposte
Attack
Common

Biete

Generic
Riposte
Attack
Common

Biete

Generic
Riposte
Attack
Common
 
Generic
Riposte
Attack
Common
 
Generic
Security Guard
Situation
Common
Text: on any Situation

Biete

Generic
Security Guard
Situation
Common
Text: on any Object

Biete

Generic
Sheathe Weapon
Edge
Common

Biete

Generic
Slash
Attack
Common

Biete

Generic
Slash
Attack
Common

Biete

Generic
Slash
Attack
Common
 
Generic
Slash
Attack
Common

Biete

Generic
Snake Bar
Event
Uncommon

Suche

Generic
Spiritual Center
Location
Rare
 
Generic
Steamed
Event
Uncommon
 
Generic
Trench Coat
Object
Common

---

 
Iman Fasil
Back Away
Dodge
Uncommon

Suche

Iman Fasil
Backflip
Dodge
Rare
 
Iman Fasil
Continuity
Situation
Uncommon
 
Iman Fasil
Duck
Dodge
Uncommon

Suche

Iman Fasil
Fleche
Edge
Rare

Suche

Iman Fasil
Iman Fasil
Premium
Ultra-Rare
Text: +1 Ability

Suche

Iman Fasil
Iman Fasil
Premium
Ultra-Rare
Fehldruck , Text: MCBC

Suche

Iman Fasil
Iman Fasil
Persona
Rare

Suche

Iman Fasil
Left Side Step
Dodge
Uncommon
 
Iman Fasil
Master's Disarm
Event
Rare

Suche

Iman Fasil
Master's Lunge
Special Attack
Rare
 
Iman Fasil
Power Blow
Event
Uncommon
 
Iman Fasil
Right Side Step
Dodge
Uncommon

Suche

Iman Fasil
Stalk
Special Attack
Rare

---

 
Kane
Back Away
Dodge
Uncommon

Suche

Kane
Divination
Event
Rare
 
Kane
Ephemeral Wound
Event
Rare

Suche

Kane
Fury
Event
Rare
 
Kane
Kane
Premium
Ultra-Rare
Text: MCBC

Suche

Kane
Kane
Premium
Ultra-Rare
Fehldruck , Text: +1 Ability
 
Kane
Kane
Persona
Rare
Anmerkung
 
Kane
Open Mind
Event
Rare
 
Kane
Power Blow
Event
Uncommon
 
Kane
Shapeshift
Event
Rare
 
Kane
Taunt
Event
Rare
 
Kane
Teleport
Situation
Rare
 
Kane
Trip
Event
Uncommon

---

Suche

Kastagir
Blood Brothers
Edge
Rare

Suche

Kastagir
Master's Guard
Guard
Rare

Suche

Kastagir
Sunda Kastagir
Premium
Ultra-Rare
Text: MCBC

---

Suche

Khan
Khabul Khan
Premium
Ultra-Rare
Text: MCBC

Suche

Khan
Armorer
Edge
Rare
 
Khan
Forged Armor
Object
Rare
 
Khan
Plunder
Situation
Rare

---

Suche

Kurgan
Master of the Hunt
Situation: Plot
Rare

Suche

Kurgan
Master's Head Shot
Special Attack
Rare

Suche

Kurgan
Skull Helmet
Object
Rare

Suche

Kurgan
The Kurgan
Premium
Ultra-Rare
Text: MCBC

---

 
Nakano
The Sorcerer Nakano
Premium
Ultra-Rare
Text: MCBC

Suche

Nakano
Weapon's Training
Situation
Rare
 
Nakano
You've Already Lost
Edge
Rare

---

Suche

Ramirez
Experience Counts
Situation: Plot
Ultra-Rare
 
Ramirez
Master's Advantage
Situation
Ultra-Rare

---

 
Yung Dol Kim
Back Away
Dodge
Uncommon
 
Yung Dol Kim
Continuity
Situation
Uncommon
 
Yung Dol Kim
Cutting Room Floor
Event
Rare
 
Yung Dol Kim
Frenzy
Situation
Rare
 
Yung Dol Kim
Master's Attack
Special Attack
Rare
 
Yung Dol Kim
Power Blow
Event
Uncommon
 
Yung Dol Kim
Run Away
Situation
Rare
 
Yung Dol Kim
Trip
Event
Uncommon
 
Yung Dol Kim
Yung Dol Kim
Premium
Ultra-Rare
Text: MCBC

Suche

Yung Dol Kim
Yung Dol Kim
Premium
Ultra-Rare
Fehldruck , Text: +1 Ability
 
Yung Dol Kim
Yung Dol Kim
Persona
Rare
Fehldruck , Anmerkung

---

 
Andere Karten
Methos Collection Order Form
 
Andere Karten
The Nexus Membership Card